HEE subscribes to LibKey Web and LibKey Nomad to augment the end-user discovery experience.
LibKey Web Integrates with the NHS Knowledge and Library Hub to provide improved A-Z journal listings, journal cover images as well as enhanced direct linking to PDFs and DOI look-up functionality.
LibKey Nomad is a browser extension that channels users to the licenced content they are eligible for when they are searching other platforms.
What is included in the national LibKey subscription?
The following components are included in the HEE-funded national LibKey subscription from Third Iron:
LibKey Discovery
This will enhance the National Discovery Service (EBSCO EDS) in three key ways:
one-click access to PDF articles and article pages from both subscribed and Open Access sources
cover art from over 28,000 journals
one-click access from the article record back to the full journal issue within BrowZine
Find out more information on LibKey Discovery.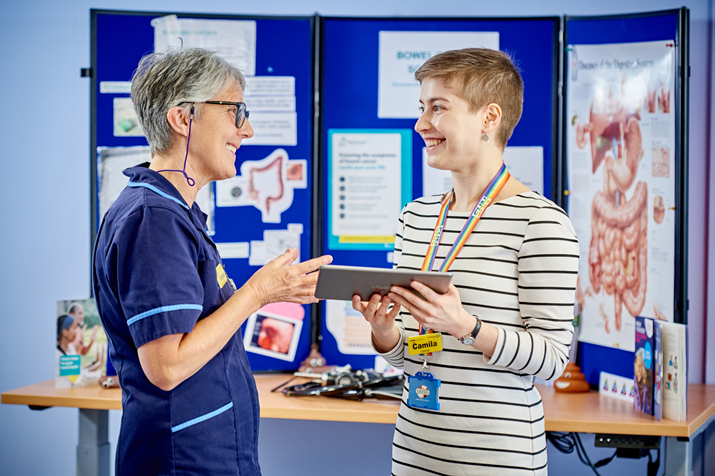 BrowZine Web
An online tool that allows users to easily browse your library's current journal content through their web browser.
This works with the link resolver to ensure that users see both nationally and locally purchased content.
Please note that the full version of BrowZine (which includes personalisation features and an app) is not included in the HEE subscription.
Find out more information on BrowZine Web.
LibKey Link
Adds one-click-access to PDFs and article pages through the LinkResolver to any OpenURL compatible databases, e.g. Google Scholar, PubMed etc.
This feature can also be used with the core content database provider interfaces, i.e. Ovid, EBSCO and Proquest.
Find out more information on LibKey Link.
LibKey Nomad
A browser extension, which enables links to full-text articles when users are searching open web content, e.g. publishers websites or Wikipedia.
The LibKey browser plugin combines information about your e-journal holdings, authentication and article linking to deliver one-click access to PDF and HTML articles.
Individuals will be able to install Nomad on their own devices and instructions will be published for this.
Guidance will also be provided to help local IT teams deploy the extension across your network.
The extension is available for Chrome, Firefox and Microsoft Edge browsers.
Find out more information on LibKey Nomad.
libkey.io
Provides a landing page where DOI and PubMed ID searches are matched against your library's subscribed and open access resources.
LibKey.io can be integrated into your library homepage.
LibKey for Public Discovery Services – this feature enables libraries to link their resources into new services such as Semantic Scholar, Clinowl, and Citationsy.
Find out more information on libkey.io.
How do all the LibKey components work?
Data from the Holdings and Link Manager feed into LibKey.
LibKey passes this information to resolve links in databases, websites and other services accessing LibKey via APIs.
It enhances user experience in the NHS Knowledge and Library Hub.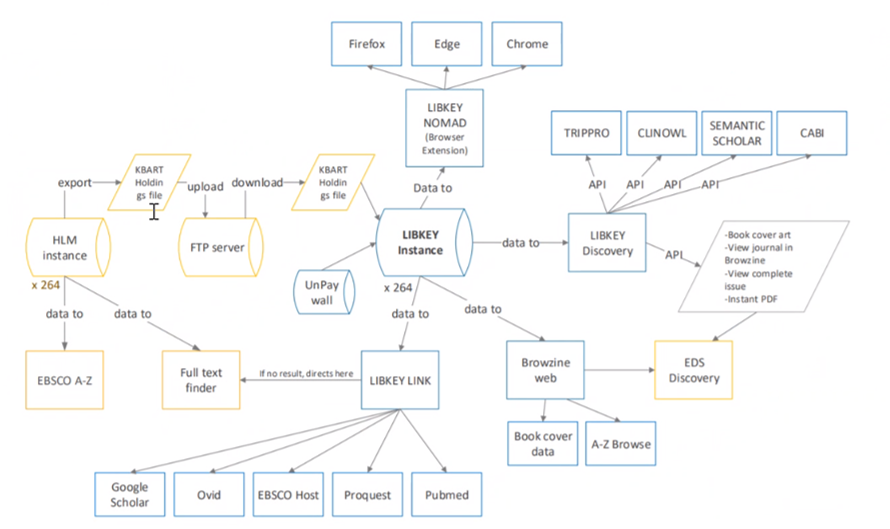 When will LibKey go live?
More details on this will be announced shortly, but work is already underway to enable access as soon as possible.
What is the duration of the contract?
The current contract will run until September 2023.
Is BrowZine included in the subscription?
The national subscription includes BrowZine Web only - not all features of BrowZine.
BrowZine Web presents your journals collection in a streamlined user interface - this includes nationally and locally purchased content. of titles. It will be integrated into the NHS Knowledge and Library Hub but can be used as a standalone resource for users to access your journal content.
What is the extra cost for services who wish to purchase the BrowZine top-up for personalisation features and the app?
NHS trust libraries have the option to add the BrowZine personalisation features and the BrowZine App at a cost of £ 995 per year or for the duration of the current HEE LibKey licence at a cost of £ 1,990.
These features enable end-users to build a customised collection with My Bookshelf and alerting features that notify them when a new issue has been published.
The app is available on iOS and Android for subscribing organisations.
Will Third Iron contact current subscribers proactively regarding fee adjustments?
Yes, Third Iron is contacting existing subscribers regarding fee adjustments to reflect the new HEE licence.
New subscribers should contact Aaron Maierhofer [email protected] to discuss further.
Will information about IT requirements for LibKey be made available to share with IT depts?
Yes, Third Iron have already prepared some instructions for IT professionals. See the LibKey Nomad Support section at the top.
Third Iron are also working on instructions for LibKey Nomad Group Policy Deployment with Microsoft Edge.
Will the functionality of the LibKey for the NHS content clash with existing browser plug-ins for university content?
Third Iron are happy to test this but they do not foresee other browser plug-ins "clashing" with Libkey Nomad.
When will training take place?
Third Iron will run regular and ongoing training sessions to support trusts with the implementation and rollout of LibKey.
Page last reviewed: 15 June 2021