Healthcare organisations, services and systems effectively mobilise evidence, learning, knowledge and 'know-how' to enable evidence-based policy and practice.
Evidence comes in many forms and in varying degrees of quality and volume depending on the topic.
It is often research published in peer-reviewed journals, or as grey literature.
Evidence based practice emphasises the importance of understanding and applying the evidence with other factors including expert knowledge and values.
Knowledge mobilisation is about connecting and encouraging people to share explicit and tacit knowledge AND to use this knowledge to inform their decision making.
Decisions are not made in isolation. They take account of the best available evidence and individual and organisational knowledge.
Enabling evidence-based practice must consider the capture and mobilisation of knowledge as well as evidence.
Knowledge specialists enable decision makers to take account of this full continuum.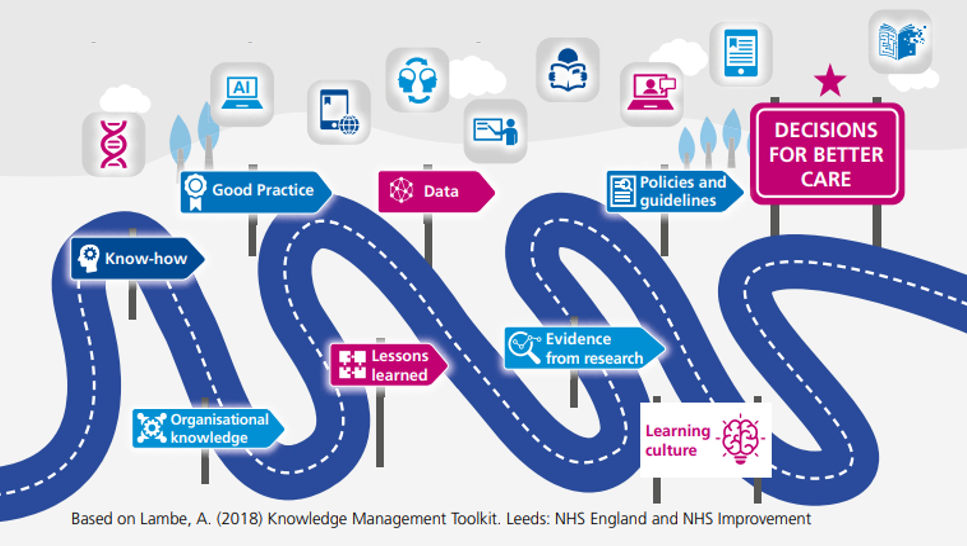 Role of knowledge and library staff 
The knowledge specialists' role is crucial:
Providing access to evidence
Gathering examples of good practice
Connecting people to actively share knowledge and insights
They translate and transform knowledge so that it can be easily used and applied in practice by the people working within healthcare organisations, services and systems.
They ensure that:  
healthcare organisations, services and systems are effective in mobilising evidence and internally generated knowledge 
healthcare staff can apply evidence, build knowledge, continue to learn, and drive innovation
healthcare knowledge and library staff manage and mobilise evidence and knowledge