Published on 23 December 2020, by Jayne Lees
COVID-19, Tools and techniques, Mobilising evidence and knowledge, Advocacy
Reflecting on the Mobilising Evidence and Knowledge workstream
As 2020 draws to a close it is a traditional time for reflection, and we could not reflect on the Mobilising Evidence and Knowledge workstream without at the same time using some of the techniques from the NHS Knowledge Mobilisation Framework – The Retrospect
What was the objective? What did or didn't we achieve and why?
Emphasising the critical role played by NHS knowledge specialists and librarians to mobilise evidence and knowledge across the NHS was a main objective. Much has been achieved in the first five years, mainly due to how well NHS library and knowledge staff across England have embraced this work, building their confidence and developing their skills to mobilise evidence and knowledge.
What were the successes?
#AMillionDecisions
#AMillionDecisions raised our profile. It calls on government and health service providers to meet their statutory obligations to ensure the million decisions made every day in healthcare are informed by evidence. It encourages healthcare staff to work with and use the expertise of librarians and knowledge specialists to get evidence into practice.
From this work evolved a bank of impact case study vignettes
and endorsements from a range of senior leaders across healthcare.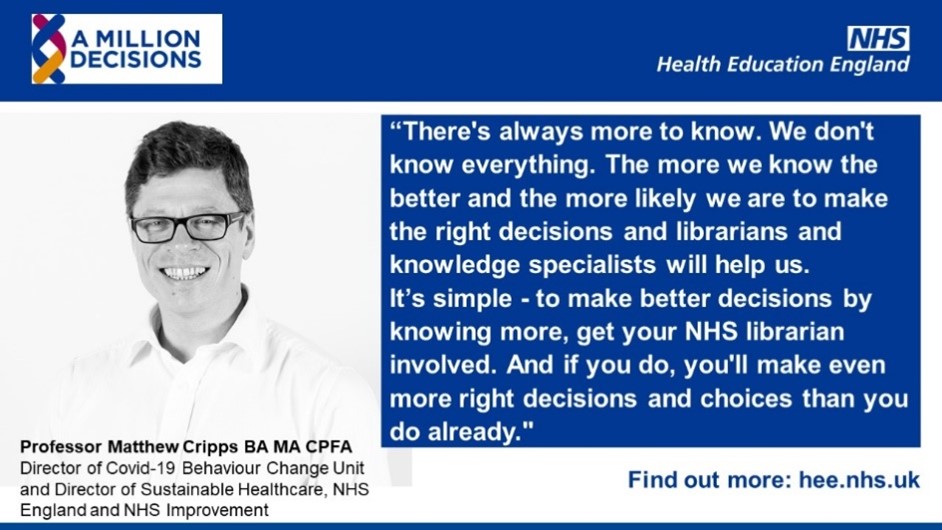 Extending Reach
Using a range of evidence and tacit knowledge to inform and respond to system level healthcare has been delivered by the "bottom-up" partnership approach of the STEMClub (Sustainability and Evidence Mobilisation) in the North East of England. Adopting models similar to STEMClub are likely to increase in 2021 with the announcement from NHS England that Integrated Care Systems (ICS) are to have more statutory functions, potentially taking on a commissioning role in 2021. See the blog post on the STEM club in the North East of England
Skills development – workshops and study days
In February 2020 thirty library and knowledge service staff attended a two-day knowledge mobilisation course facilitated by knowledge management consultant Chris Collison. This core group of individuals work as a reference group for future mobilising evidence and knowledge work.
Tools and Techniques
Learning lessons from Covid-19
Rapid learning, spread of knowledge and use of evidence was essential for the response to the Covid-19 pandemic. CILIP held a virtual conference in May 2020 exploring the role of knowledge management in a time of crisis. Perspectives were shared from knowledge specialists working in various sectors including the NHS. A series of thought-provoking questions were raised, including how we take learning from a crisis and apply to our everyday practice.
This topic was explored further by Holly Case Wyatt who shared tools to rapidly share learning from Covid-19 including a framework from Collaborate for Care.
We also produced a short recorded presentation about the Before Action Review, After Action Review and Retrospect as a suite of tools to encourage the sharing and re-use of lessons learnt.
KNOWvember
KNOWvember is an annual celebration and showcase of the work by NHS library and knowledge staff to mobilise evidence and knowledge. The aim of KNOWvember events is to share practical examples of how library and knowledge service staff have used techniques to encourage more widespread use of evidence and sharing of know-how across the NHS. This in turn generates ideas for more knowledge mobilisation to take place.
Four virtual events were held in KNOWvember20 featuring work by various library and knowledge specialists coupled with opportunities to experience a variety of knowledge mobilisation techniques. We were also joined by external speakers including CILIP Trustee Karen McFarlane, who provided an overview of the BSI/ISO 30401 Knowledge Management Systems Standard and CILIP's Knowledge Management Chartership and Dr Nicola Millard, Principal Innovation Partner at BT who shared insights into the digital workplace. Presentations from these events, plus summaries of discussions and recorded conversations between knowledge specialists, can be found on the Knowledge for Healthcare KNOWvember20 YouTube Playlist.
What could have been even better?
We know that terminology has at times proved challenging.
As the ISO 30401:2018 Knowledge Management Systems Standard says there is no single accepted definition of knowledge management and our preferred term is knowledge mobilisation emphasising that knowledge needs to be used and not just managed. David Stewart's reflection considers this change in terminology and presents a long view concluding that knowledge management is no longer a "nice to have" trend but that KM will become the every-day core of what we do" – delivering Knowledge and Library Services to ensure that organisational knowledge and best evidence are mobilised to achieve excellent healthcare and health improvement.
Marks out of 10 for the work as a whole? What would have made it a 10?
The work to date deserves at least an eight as demonstrated by the range of mobilising evidence and knowledge work showcased at the recent KNOWvember20 events. It will become a 10 when even more NHS staff routinely use evidence and share knowledge to inform their decisions.
A big thank you to all who have contributed to this work, and in particular to our knowledge champions. We wish you time for your own reflection over the festive break and look forward to working with you on the next chapter of this story in the new year.
To read more about the mobilising evidence and knowledge work see Day A and Goswami L (2020) Driving change with evidence and knowledge: Transforming knowledge services for the NHS across England. Business Information Review Volume 37, Issue 1 https://doi.org/10.1177/0266382120909240