AI refers to a broad field of science encompassing not only computer science but also psychology, philosophy, linguistics and other areas. AI is concerned with getting computers to do tasks that would normally require human intelligence. 
What is artificial intelligence
AI refers to a broad field of science encompassing not only computer science but also psychology, philosophy, linguistics and other areas. AI is concerned with getting computers to do tasks that would normally require human intelligence.
It encompasses: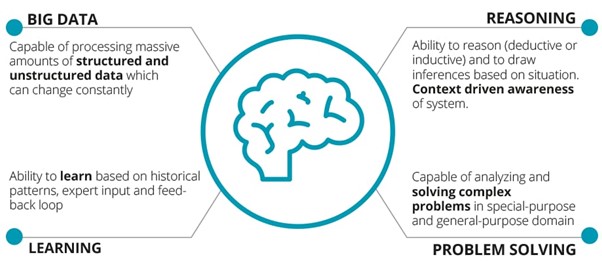 From: Part 1: Artifical Intelligence Defined, Stefan van Duin & Naser Bakhshi - March 2017 - Deloitte
https://www2.deloitte.com/se/sv/pages/technology/articles/part1-artificial-intelligence-defined.html
Virtually all current AI is narrow, meaning it can only do what it is designed to do. This means that for every problem, a specific algorithm needs to be designed to solve it. Narrow AIs are mostly much better than humans at the task they were made for: for example, look at face recognition, chess computers, calculus, translation. The holy grail of AI is a General AI, a single system that can learn and then solve any problem it is presented.
AI flavours:
Hardwired system with a human in the loop = Assited Intelligence
Hardwired system with no human in the loop = Automated Intelligence
Adaptive system with a human in the lopp = Augmented Intelligence
Adaptive sustem with no human in the loop = Autononmous Intelligence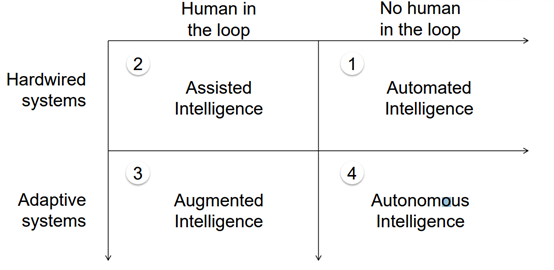 Adapted from: "AI Policy Seminar: Towards an EU strategic plan for AI" (November 2017). Richard Price Artificial Intelligence Hype vs Reality? Working Together in a Digital Future event, February 2019
Current AI technologies used in the NHS
Yewno – pilot being undertaken by University Hospitals Derby and Burton
A Deep Learning Network "reads" high-quality sources and projects concepts into a knowledge graph. This groups related concepts together and shows their interrelationship.
It gives users a visual map of how the concepts of research included in search results relate to each other and shows connections that they may not otherwise think about.
User feedback: Yewno better at handling broad subjects than precise, specific ones​ and may show unhelpful connections – prior knowledge is needed to be aware that these are not useful.
EBSCO Discovery Service
EBSCO is also working on a similar product for inclusion within its EDS system. The new Concept Map provides a more visual and interactive approach to learning and exploring topics with Artificial Intelligence on top of a sophisticated knowledge graph and the ability to push results back into linear lists.
The Knowledge Graph ensures an excellent search that can turn even inadequate queries into quality results. Therefore, users don't need to start off as expert researchers to get expert information. The Knowledge Graph does this by mapping new datasets that incorporate natural language, extensive subject vocabularies, and a vast array of synonyms and concepts in more than 280 languages and dialects.
https://www.ebsco.com/blogs/ebscopost/evolution-ebsco-discovery-servicetm-connecting-library-goals-user-expectations
Also see Credo Reference https://search.credoreference.com/. Similar to Yewno.
Robot Analyst
RobotAnalyst is currently used as a screening tool by analysts to develop systematic reviews and guidelines. Specifically, the system has been employed by NICE in developing new guidelines and surveillance reviews on benefits of exercise, behavioural change, fighting addictions, managing weight and others.
The PICO framework is conventionally used to structure pre-defined research questions matching clinical needs.   However, PICO is not well-suited to the needs of evidence-based public health reviews such as those conducted by NICE.
Public health questions are always complex, involving behaviour, culture and organizations, and often are described using abstract, fuzzy terminology in ways that make binary definitions of all the parameters in PICO a priori extremely problematic.
We thus developed novel research methods integrated in a system, the RobotAnalyst, which supports users to screen while searching. Its text mining based functionalities, allow users to search via different facets (terms, journals, authors, etc.), via clusters (based on descriptive clustering), via topics (based on topic modelling), and via similarities to a reference. It then supports screening and prioritises references using relevancy predictions based on an active learning model which learns from reviewers' screening decisions.
See Case Study - Robot analyst at the archived Medical Research Council website, for more information.
Iris.ai in Mersey Care Evidence Service
Reads all Open Access papers. In reading papers Iris can understand keywords, concepts, context and relationships which it can then map against all the other papers it has read.
This theoretically changes the nature of searching as the AI will be able to identify relevant papers that might not contain the keywords used in a more traditional search.
Uses natural language processing (NLP) Iris allows searchers to type your question in a normal, fluent format. It identifies keywords and context, matches them to the information it has read, and creates a concept map.
See the A glimpse of the future: IRIS AI in Mersey Care Evidence Service blog post for more information.
Cochrane Community Evidence Pipeline
The project will build an 'Evidence Pipeline' in which study citations identified through automated and enhanced centralised search activities, including Project Transform's Crowd platform, are 'triaged' to the most relevant review group or review using machine learning technologies. It will also assign suggested study type flags automatically: RCT only to begin with, and other types (e.g. diagnostic test) in later releases. The objectives are to improve the efficiency by which study reports are identified and to support the inclusion of all relevant studies in Cochrane information systems.
Data Lens
Data Lens brings together information about multiple databases, providing a fast-access search in multiple languages. Using Natural Language Processing (NLP) and other AI technologies, the Data Lens project is creating a universal search engine for health and social care data catalogues and metadata.
Data Lens currently joins up five data catalogues from across the NHS system including NHS England and Improvement, NHS Digital, and Public Health England.
https://www.nhsx.nhs.uk/ai-lab/ai-lab-programmes/skunkworks/nhs-ai-lab-skunkworks-projects-data-lens/
Public Health England and R
R is a statistical programming language. It has the power to visualise data in new ways, helping analysts understand problems better and offering new insights to improve the quality of care. R can be used for a range of topics in health, such as reporting hospital mortality statistics and evaluating interventions.
https://www.health.org.uk/what-we-do/quality-and-data-analytics/funding-and-championing-analytics-research/the-power-of-r-for-the-nhs
https://www.r-project.org/about.html
The knowledge and Library services team at PHE are looking at undertaking some work around new technologies and literature searching.  They are currently scoping some projects looking at using the open source programming language R, hoping to explore the following themes:
Comparing literature search results from PubMed with results from searching PubMed using R 
Exploring theming of the results from a search using R
Using text mining software to see how often acronyms come up as a way of screening search terms for noise 
Metaverse
An R eco system for meta research currently in development.
Evidence synthesis (ES) is the process of identifying, collating and synthesising primary scientific research (such as articles and reports) for the purposes of providing reliable, transparent summaries. The goal of the metaverse project is to collect, integrate and expand the universe of available functions for ES projects in R.
National Grey Literature Collection and Kindred Posts
Kindred Posts uses artificial intelligence to learn how your website visitors use your site and recommends content based on their interests.
TRIP database
Chatbots
Not UK but another potential use in NHS libraries
https://www.ibm.com/blogs/think/uk-en/galvanising-digital-transformation-at-irelands-national-health-library-knowledge-service/
https://www.edsurge.com/news/2019-06-14-bots-in-the-library-colleges-try-ai-to-help-researchers-but-with-caution
It's a chatbot, which library officials plan to add to the library's website to answer some of the most common questions students come in with, as well as to help them get started with their research. The system can tackle things like "where can I print?" or "what databases do you have about biology?" Anything it can't answer gets sent to a human librarian.

Issues
Bibliography
https://www.nhsx.nhs.uk/ai-lab/
Cruz Rivera, S., Liu, X., Chan, AW. et al. Guidelines for clinical trial protocols for interventions involving artificial intelligence: the SPIRIT-AI extension. Nat Med 26, 1351–1363 (2020). https://doi.org/10.1038/s41591-020-1037-7
A guide to using artificial intelligence in the public sector
Guidance on building and using artificial intelligence in the public sector.
Page last reviewed: 15 June 2021