We live an age of amazing technological advance. Predictions of what is just around the corner are many. But what are the implications for health?
See related blog posts about emerging technology.
Emerging Technology includes any technology in development which may have an significant economic or social impact.
In healthcare, emerging technology may include:
artificial intelligence to reduce health inequalities
wearables to monitor patients remotely
algorithms to help make the best decisions for patients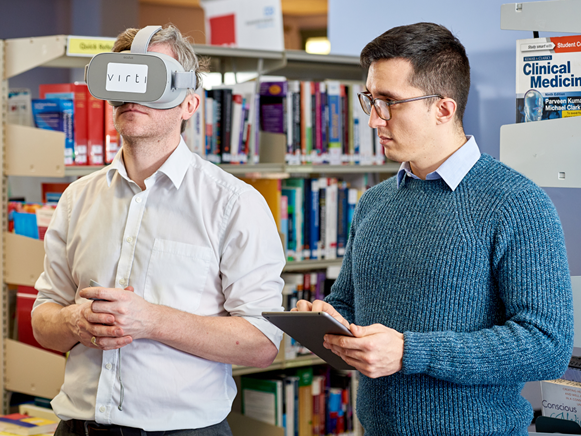 Non-urgent advice:

Topol Review
The Topol Review (2019) identified the top 10 digital healthcare technologies likely to have an impact on the healthcare workforce:
Telemedicine
Smartphone apps
Sensors and wearables
Reading the genome
Speech recognition and natural language processing
Virtual and augmented reality
Automated image interpretation using artificial intelligence (AI)
Interventional and rehabilitative robotics
Predicitve analytics using AI
Writing the genome
The review makes clear that the adoption of digital healthcare technologies should be based on evidence, of both clinical and cost-effectiveness, and knowledge of new technologies needs to be spread throughout the NHS. It asserts that effective knowledge management is essential for a digitally ready NHS.
Important:

How KLS staff can support emerging technologies:
literature searches to find the evidence
spreading best-practice and knowledge of new technologies and their potential impact
championing and mobilising knowledge and use of emerging technologies within the organisation
training staff in digital, health and information literacy
Sue Lacey-Bryant talks about the the Topol Review and how NHS librarians can advance its agenda.
See the slide deck or watch the webinar, recorded on 15th January 2020.
Contact [email protected] for the slides in an accessible format.
Emerging Technologies Group
keeps an eye on current and possible future developments in technology
thinks about their implications for healthcare
shares case studies and best practice
The group meets every other month. The chair is Stephen Ayre. If you would like to join the group, email Stephen.

Recent KLS developments
Artificial Intelligence in Specialist Search and Knowledge Management
Virtual Reality: its role in healthcare and healthcare libraries - 2019 webinar
Presentation
Virtual Reality in healthcare and Potential Applications to NHS Library Services - Nick Peres
Case Studies:
Contact [email protected] for the presentation and case studies in an accessible format.
Page last reviewed: 15 June 2021