Find out about the terms used in usage statistics, the reports available to you, and how to determine the cost effectiveness of eResources.​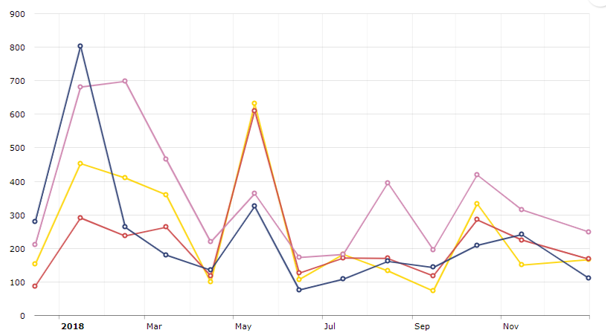 Key reports
COUNTER reports are standard. Use them for reliable comparisons between electronic resources from different suppliers, if applicable.
Counter 5 Reports
See also COUNTER 5 for Librarians.
Introduces concepts of Investigations - when a user clicks on parts of a record, for example viewing the abstract, or fulltext, and Requests which only counts fulltext views or downloads.
Searches have been sub-divided into regular, platform, federated and automated
See glossary for different types of investigation, request and search.
Platform, Database, Title and Item Reports are available and can now be filtered.
Platform Usage: total and unique item requests, as well as platform searches. A platform is a supplier's interface for searching resources, e.g. EBSCOhost, EDS, or BMJ Best Practice
Database Search and Item Usage: total item investigations and requests, as well as searches
Database / Journal / Book Access Denied: shows where users were denied access to databases.
Book Requests / Journal Requests: : fulltext activity for non Gold Open Access eBooks /eJournals
Title Usage: access denials to eBooks / eJournals
Book Usage by Access Type: / Journal Usage by Access Type: investigations and requests for eBooks or eJournals
Example:
User is researching the aetiology of diabetes mellitus type 1 on a publisher's platform. From the search results user opens three article abstracts and a video. All four records are different, but two of the articles are from the same journal. The counts are:
Total_Investigations: 4 | Unique_Item_Investigations: 4 |Total_Requests: 0 | Unique_Item_Requests: 0
After reading the abstracts, user downloads PDFs for two of the articles, both from the same journal. The counts change to:
Total_Investigations: 6 |Unique_Item_Investigations: 4 |Total_Requests: 2 | Unique_Item_Requests: 2
Supplier reports
For help see EBSCO, ProQuest, BMJ Journals, Ovid)
As well as the COUNTER reports, suppliers may offer reports which allow for customization or give more detail. Some useful examples are:
Database usage: sessions, searches, and requests logged for each databases
Interface usage: the interfaces, such a Discovery from which a search of databases was conducted
Title usage: request for content for each title in the collections purchased.
Page last reviewed: 15 June 2021