Before the workshop email the attendees and ask them to send you details of local examples of working with Patient Information for inclusion on the presentation. Also ask if they would be willing to discuss the example with the group. The information provided here is not intended to be an exhaustive list of what is happening locally, but rather providing two examples per region (where possible). Examples will be more inspirational for attendees if captured from the attendees themselves.
Local Example 1 - North East
Barnsley Hospital NHS Foundation Trust Library and Resources Centre
Partnership working with Barnsley Public Libraries including; Working in proactive and productive partnership with the staff of Barnsley Public Libraries (BPL) on several projects.
Input from BHNFT LRC includes :
A health information guide for use in the branch public libraries.
Training session on NHS knowledge resources for public reference library staff.
Sharing resources through BPL interlending scheme.
Promotion of BPL activities within LRC.
Input from BPL includes:
Outreach collections of books for the childrens and young peoples clinical areas. Outreach collection for the LRC.
Support for a BHNFT recreational library readers group. This has included expertise and also books for the group.
Advice on children's books and reading lists for BHNFT staff.
Attendance at joint promotional activities
Doncaster and Bassetlaw Hospitals NHS Foundation Trust, Knowledge, Library & Information Services for Health
Working with, and making recommendations to, Doncaster Libraries & Information Service to develop a Health & Wellbeing Information Service. This has included:
Development of a Health Information Training Programme for all public library staff, delivered by the Knowledge & Information Skills Officers at Doncaster Royal Infirmary
Promotion of our new Health Information Enquiry Service available to in-patients and out-patients at the hospital, but also now promoting access through Doncaster Public Libraries to all residents, patients and carers.
Reviewing their book stock held at the relevant Dewey classification numbers, making recommendations for stock withdrawals, stock purchases and updating of relevant stock to latest editions, This has then led to the creation of Health & Wellbeing Collections in each of the public libraries
Recommendations for terms of reference for a Health & Wellbeing Working Group that the Head of Libraries at Doncaster wishes to establish and have held discussions about our subsequent involvement in this working group.
Development and promotion of the Reading Well Books on Prescription scheme
Local examples 2 – South West
2gether NHS Foundation Trust for Gloucestershire, Wotton Lawn Library
Reading group has been set up as a joint venture between the library and the Occupational Therapy department for patients in the psychiatric hospital. We meet for an hour every fortnight.
South Devon Healthcare NHS Foundation Trust, Trust Library Torbay Hospital
Evidence suggests that reading for pleasure lifts people's moods. Previously, the Library team had delivered mood-boosting sessions in the Library and to the Trust's literacy cohort, gaining positive feedback.
In response to requests, the second phase has been for the Library Manager, Senior Library Assistant and Trust's Co-ordinating Chaplain to take mood-boosting reading sessions on two wards.
Themed readings are selected from national Reading Agency collections which were added to Library stock – brief passages of prose and poems are read for 15-20 minutes to patients and staff in the day room of Torbay's Care of the Elderly ward, and to patients in the day room of the residential mental health ward.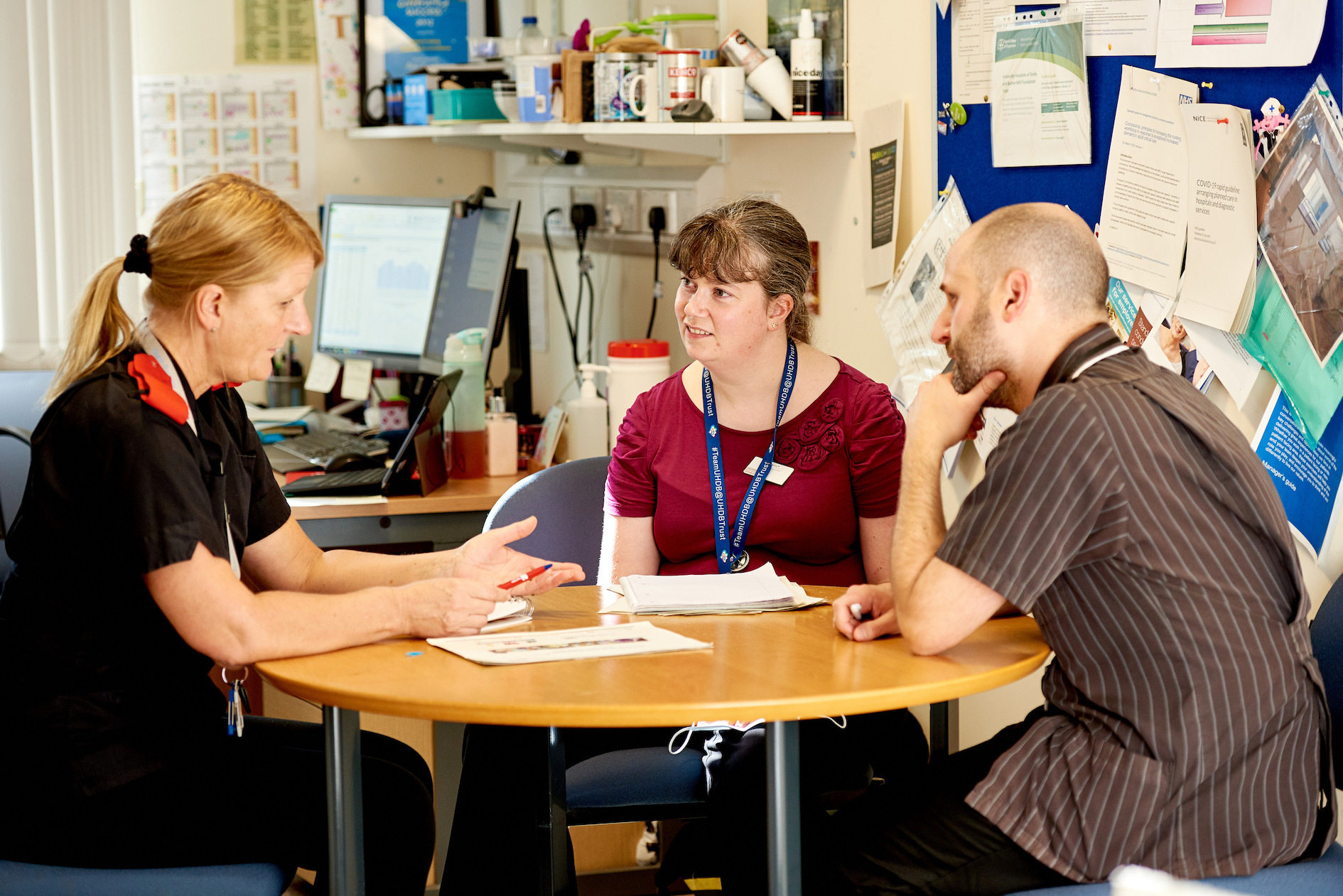 Local examples 3 – West Midlands
Worcestershire Acute Hospitals NHS Trust, Worcestershire Health Libraries
Worcestershire Health Libraries joined forces with Worcestershire Public Libraries to offer a reading challenge for staff: read 6 books over the summer period (beg. July – end September) with a prize draw for those who complete the challenge (prizes donated by the public library and some local businesses).
The public library closest to each hospital site loaned a collection of fiction titles. These titles included some Quick Reads for those less confident at reading or who may prefer something lighter.
The Challenge was offered to community staff as well as hospital staff.
George Eliot Hospital NHS Trust, William Harvey Library
Warwickshire public library service has installed a book vending machine in a corridor at the George Eliot Hospital. It can be used by members of the public or staff. GEH Library staff provide first-line technical support.
Local example 4 – London and the South East
South London and Maudsley NHS Foundation Trust, Reay House Library
Health information literacy for Recovery College members; One of the tenets of the recovery model in mental health is the journey towards self-care. This relies on the availability of information about mental illness and maintaining wellbeing. Recovery Colleges are being set-up across the mental health sector to offer an educational approach to the recovery journey. The Centre for Mental Health suggest that the educational model:
Helps people recognise and make use of their talents and resources;
Assists people in exploring their possibilities and developing their skills;
Supports people to achieve their goals and ambitions;
Staff become coaches who help people find their own solutions;
Students choose their own courses, work out ways of making sense of (and finding meaning in) what has happened and become experts in managing their own lives.
Kent and Medway NHS and Social Care Partnership Trust, St Martin's Library
We have established the Reminiscence Collection in the professional library resource here at St Martin's. This is a collection of reminiscence boxes, which contain themed items reminiscent of past times for use with patients in stimulating memory such as music, childhood toys, hobbies and pastimes etc. Also a collection of books and a variety of individual items which carers can also use.
Reminiscence is a universal experience. It can be of particular importance to older people because:
It highlights their assets rather than their disabilities
It can enhance their feelings of self worth and esteem
It can help in recognising individuality and identity
It can build a bridge between the older person and those who care for them
It is enjoyable and stimulating
Brighton & Sussex University Hospitals
Although the Reminiscence Collection is often used primarily with people who have one of the several forms of dementia, it can also be used with adults with learning disabilities, or people who have visual problems.
St Martin's Library has built up a collection of materials to stimulate and support reminiscence as part of our service as an aid to those who care for people living in hospitals, residential homes and sheltered accommodation and also being cared for by family or friends at home.
Local examples 5 - East of England
Cambridgeshire and Peterborough NHS Foundation Trust, Cambridgeshire and Peterborough NHS Foundation Trust Library
Partnering with Cambridgeshire County Council and Vivacity, CPFT Libraries has arranged monthly visits to its Fulbourn Hospital and Cavell Centre sites by mobile library vehicles from Cambridgeshire Public Libraries (for Fulbourn) and Peterborough Public Libraries (for Cavell).

These visits have been promoted to staff and to inpatient service users who might not otherwise have the opportunity to access library services.

This fulfils a pledge in the library's strategy to find ways of extending and promoting library services to service users.

Usage and presence of the service has also been thoroughly risk-assessed to make sure that this innovation is carried out in a way that keeps staff and service users safe.
Local example 6 – North West
Mersey Care Knowledge and Library Service
Introduction to Research Training for service users and staff designed and delivered by Librarian in partnership with the Trust Research and Development department.
University Hospitals of Morecambe Bay NHS Trust, Library & Knowledge Services
Early in 2012 UHMBFT commissioned a course from University of Lancaster to develop skills in interviewing patients, carers and staff. This brought together a multidisciplinary group, including the head of libraries to develop their skills in this area and resulted in the creation of the Trust Stories Team.
This group interviewed individuals about their experiences within the hospital for the trust board and departments wishing to capture incidents from a more personal angle.
The team tapes or films these interviews and they are used as part of general training sessions or specialist learning lessons events.
The library team are cataloguing and classifying these recently captured stories plus a collection of previously commissioned recordings on elderly care. These will be hosted on the library management system, Heritage.
In addition, the team are heavily involved in the working group to resolve governance and access issues plus introducing a robust evaluation method to capture usage and impact.