Here are the slides and the transcript from the fourth video in the mobilising evidence and knowledge bite size series entitled "Learning After"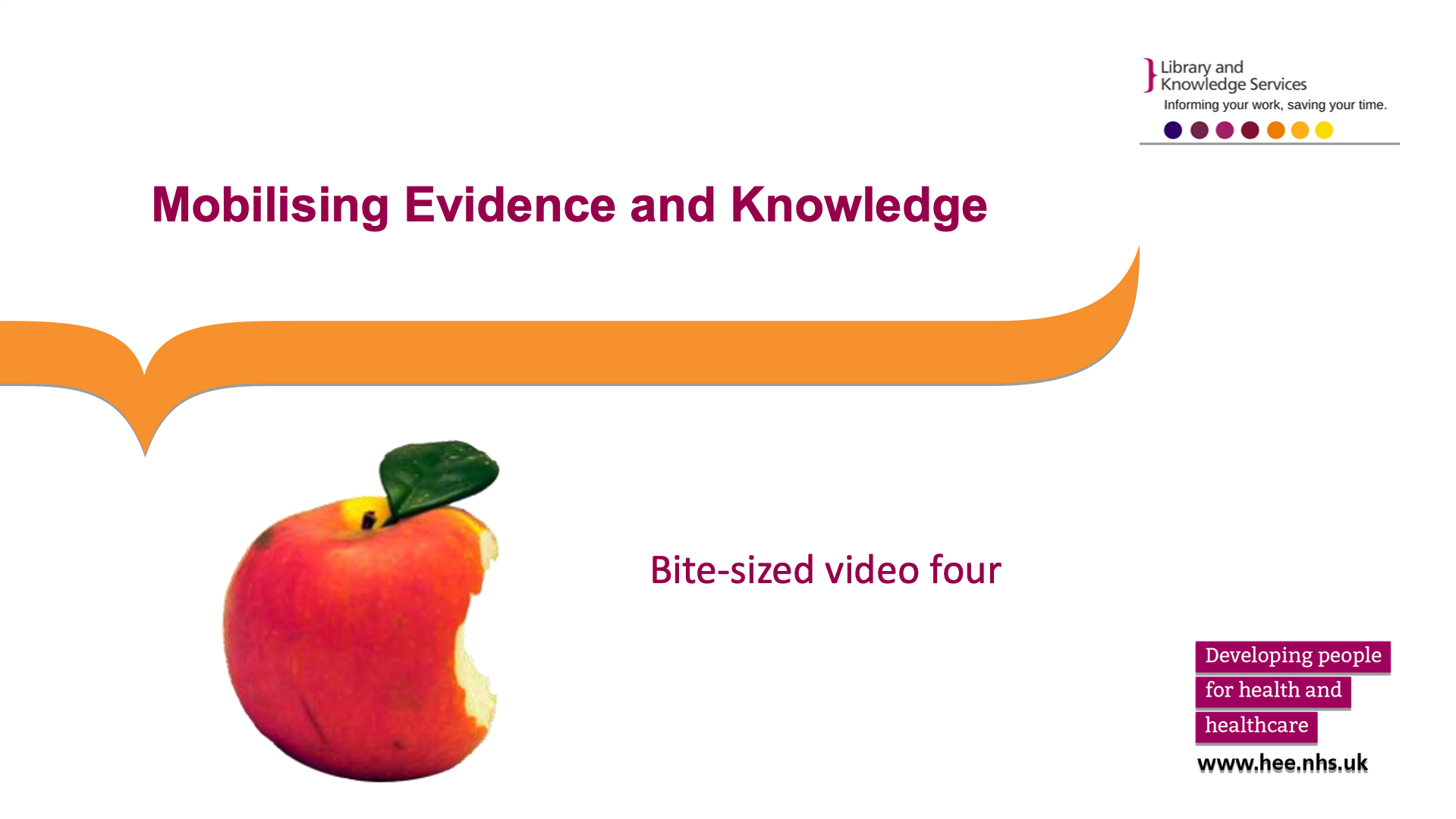 Welcome to the fourth and last video in our short series of bite-sized introductions about mobilising evidence and knowledge where we will look in more detail at some Learning After techniques.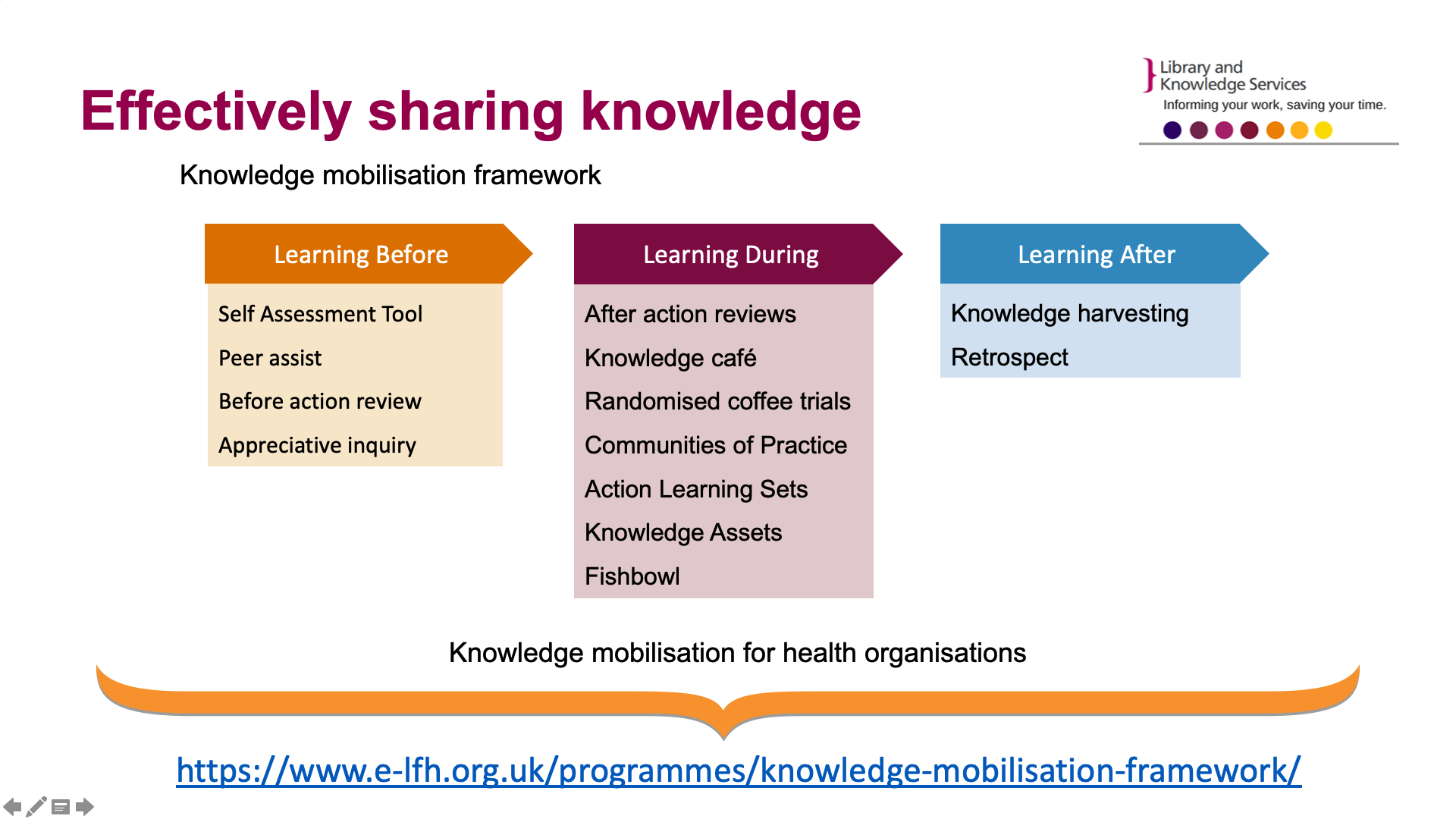 Healthcare is a knowledge based industry. Sharing the know-how of staff, using research evidence and implementing best practice are all business critical. The Knowledge Mobilisation Framework emphasizes learning throughout the an activity's lifecycle: learning before, during and after. It provides a set of tools and techniques that are simple and quick to use that people can integrate into their daily practice, to encourage continual learning, replication of good practice and avoidance of pitfalls. The tools and techniques facilitate learning and support strategic planning, operational delivery and sustainability.
It is a cyclical process – learning before can lead to learning during and learning after which then feeds back into learning before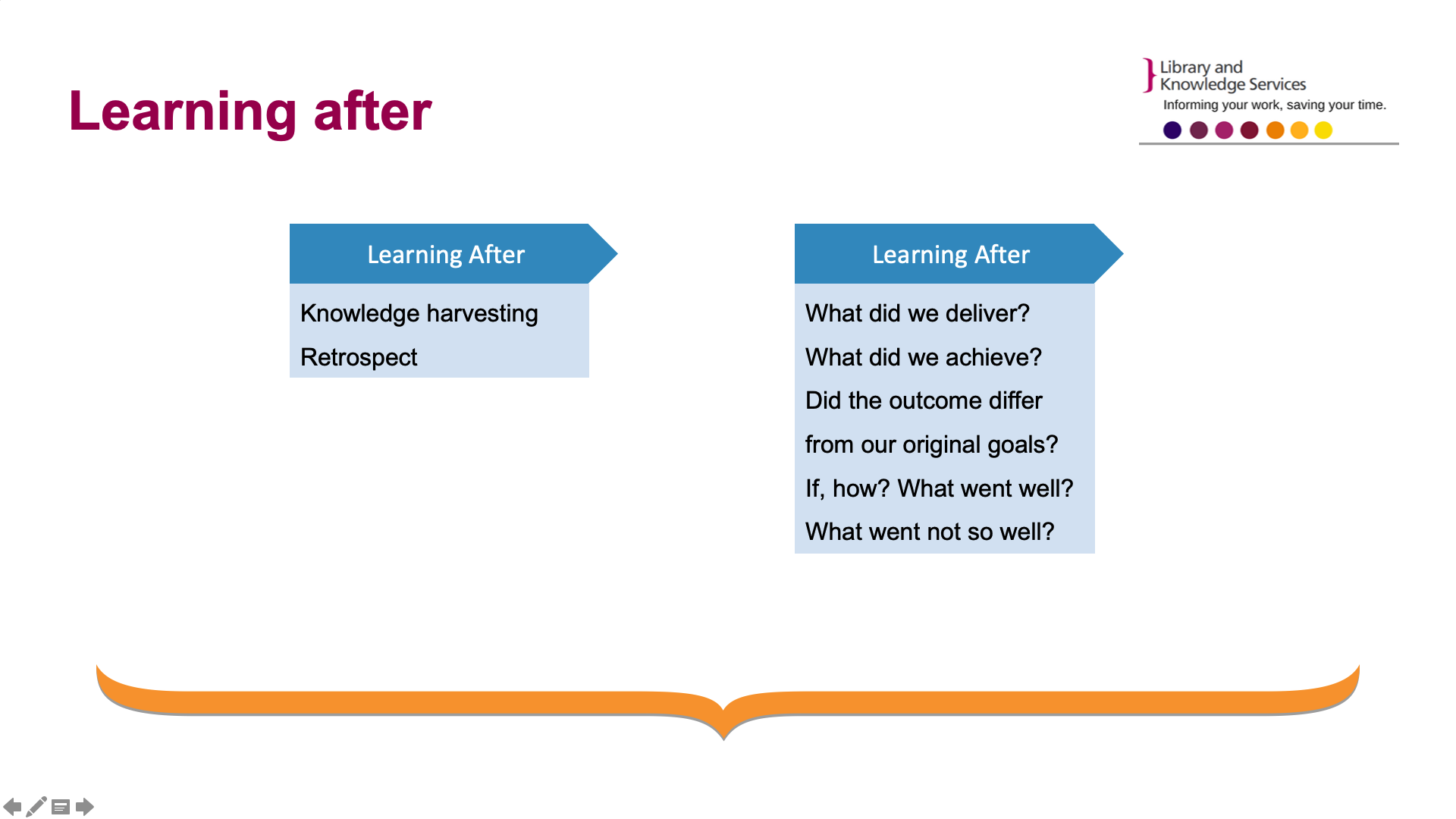 Learning After techniques ask us to consider what did we actually deliver? What did we achieve?
Did the outcome differ our goal? What went well? What went not so well? How will we retain knowledge when from people move on to new roles?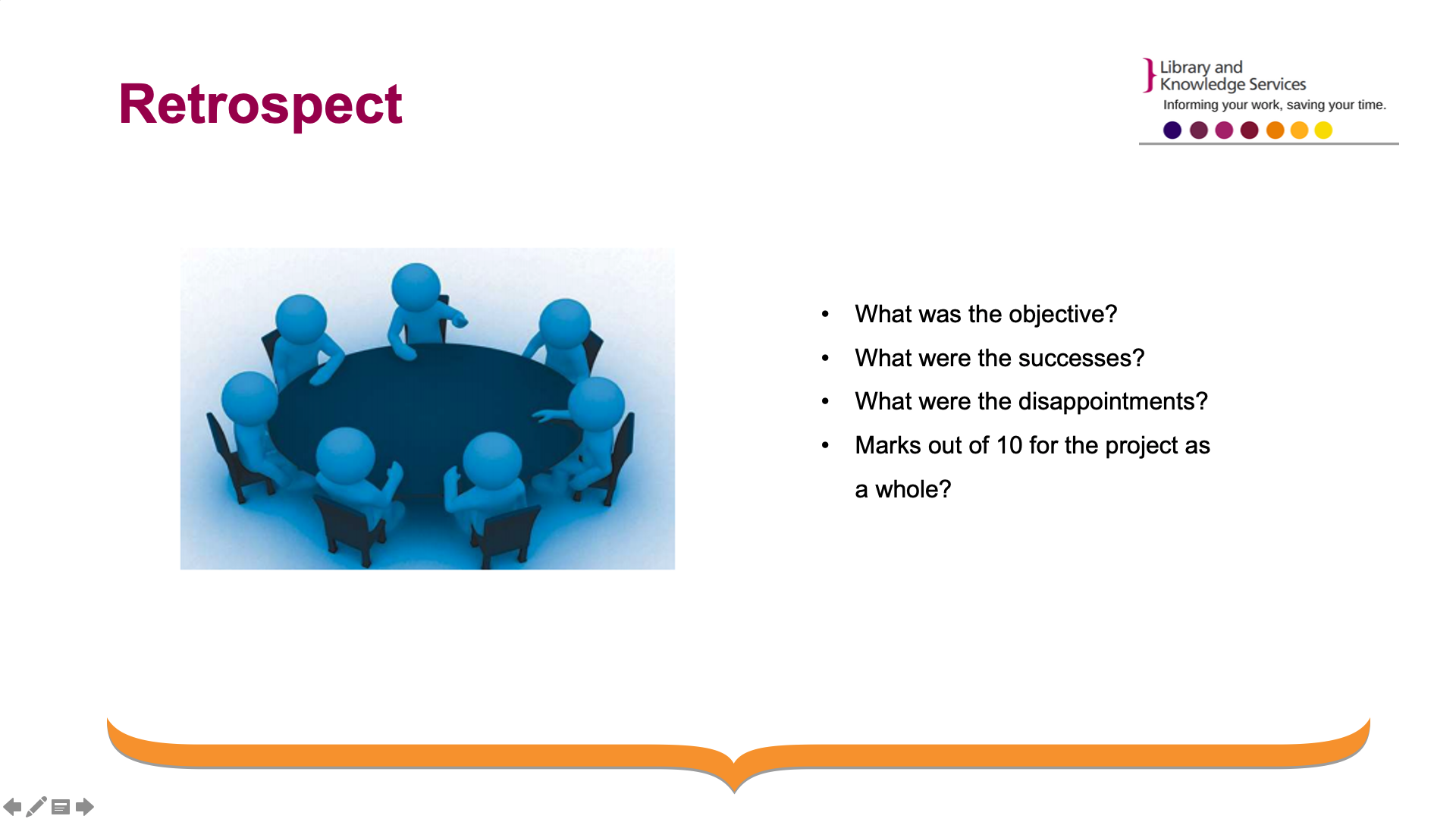 Retrospect has a similar structure to the After Action Review but is a longer version right at the end of a piece of work so you can capture the knowledge before the project team disbands. You would usually invite a beneficiary of the knowledge and lessons being learned to participate. Particularly powerful is the final stage - marking a piece of work out of 10 and considering what would have made it a 10 to identify key learning to pass onto others as knowledge assets that can be accessed at anytime or from any location.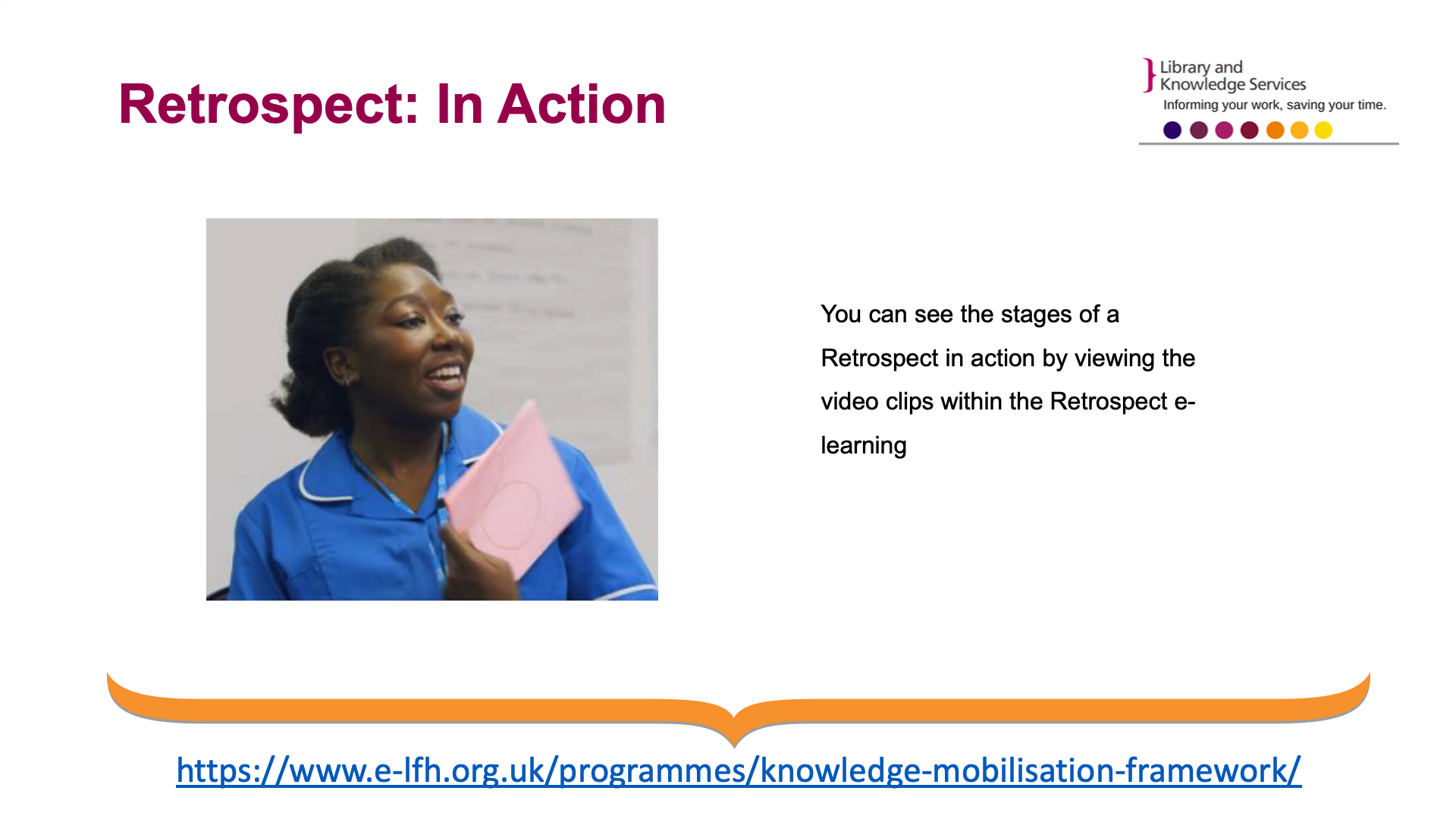 You can see the benefits of holding a retrospect by viewing the video clips within the Retrospect Module of the e-learning – free to access online from the link shown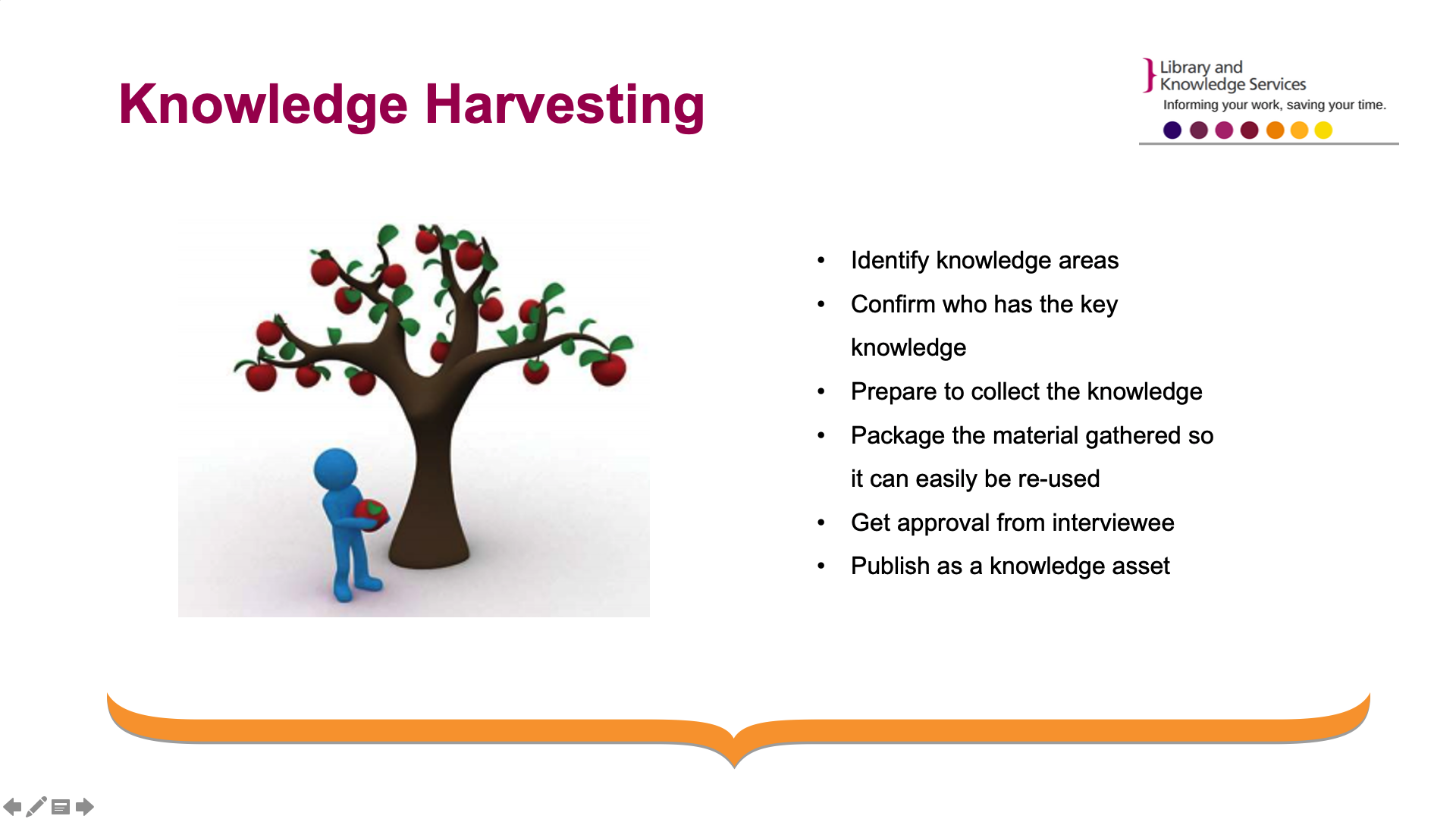 This technique is framed around knowledge retention.
What happens when valuable members of staff move on? It is not just about staff leaving but also useful at end of projects and when secondments end and helpful when new people start to help get people up-to-speed more quickly.
The key is to start early, ask the right questions and decide how to package the knowledge to make it useful for others – not collecting everything but ensuring key learning is captured for re-use.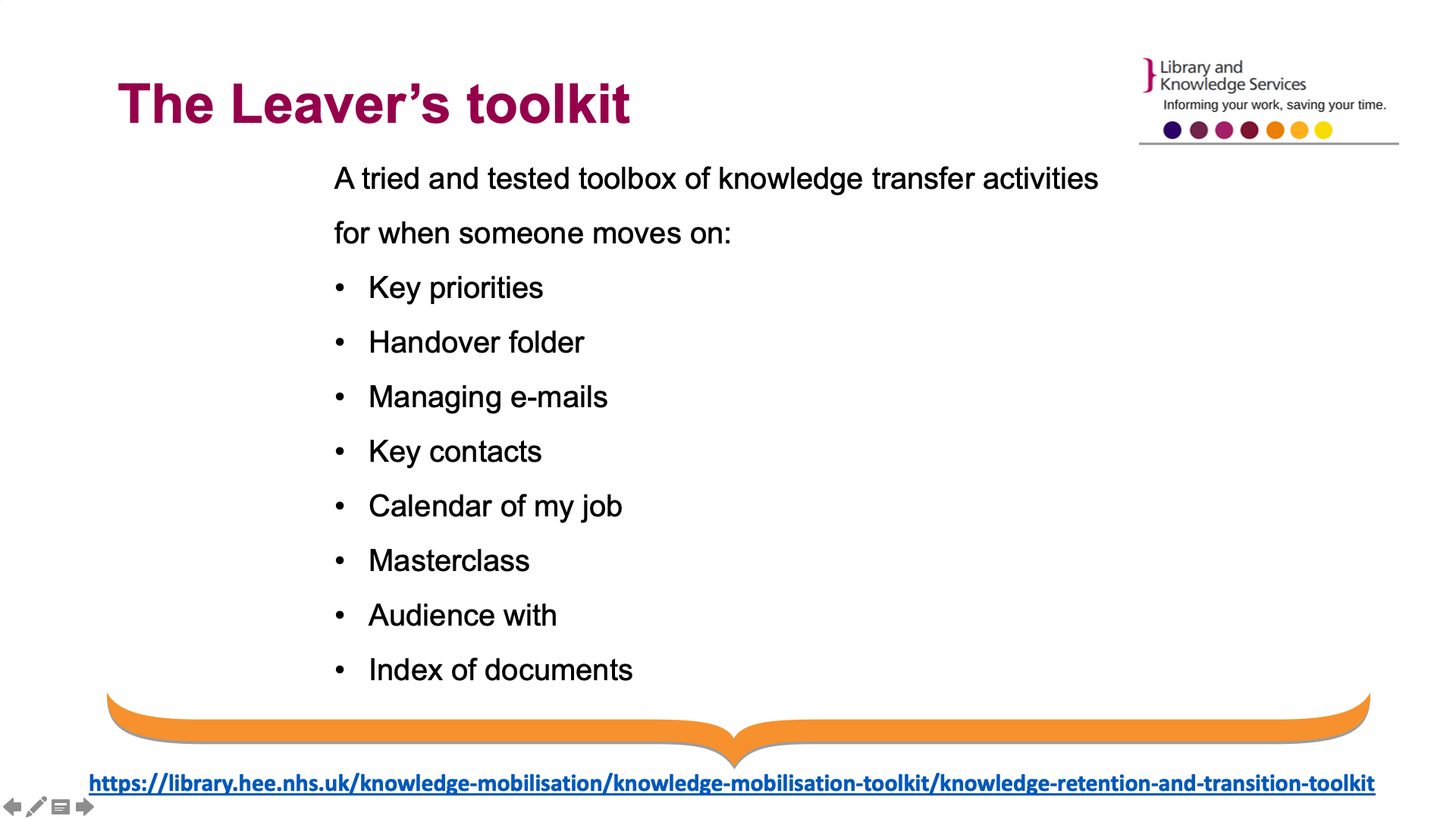 The Leaver's Toolkit presents a range of knowledge transfer activities that a leaver can adopt to capture and pass on their knowledge and learning.
At Buckinghamshire Healthcare NHS Trust the Library & Knowledge Services Manager delivers a 30 minute session, Valuing your Knowledge Legacy, on a preparing for retirement workshop for Trust staff. The session encourages participants to think about the unique work-related knowledge they have and discusses ways of sharing this with others in their team
Think about a recent enquiry you have received or about a key priority for your organisation – could you recommend a learning after tool to help the use of evidence and knowledge?
To get you started think about the following scenarios – how would you introduce a learning after tool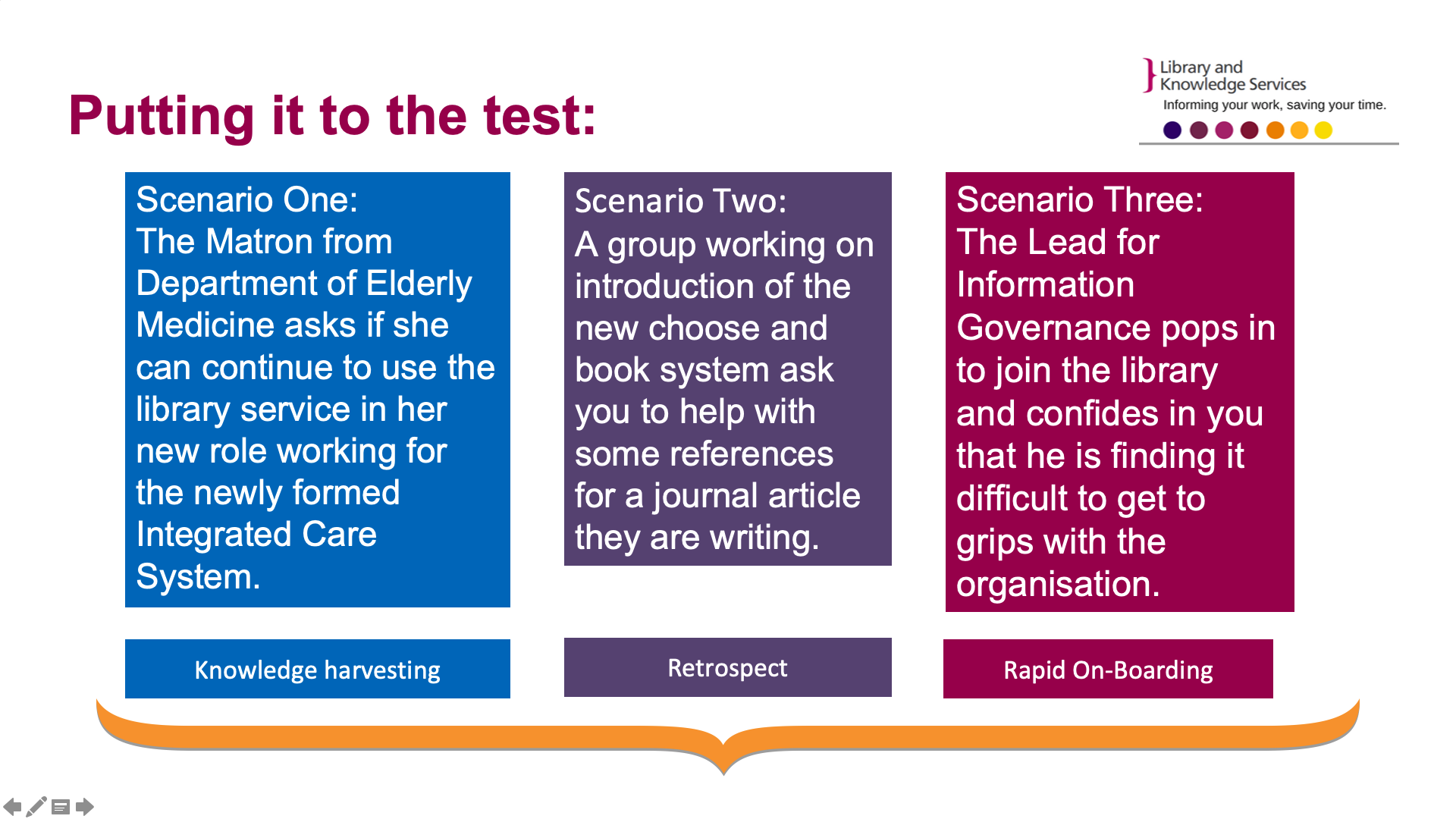 Which learning after tool might you use in the following situations? In scenario one you receive an enquiry about continued use of the library service from a matron who is transferring to work for the newly formed Integrated Care System.
In addition to explaining how she can continue to access library services you may also offer a bulletin of the latest evidence to keep her updated and informed and may share with her the tools from the Leavers Toolkit so that she can transfer key learning from her existing role to others in the team
In scenario two You are asked to source some articles by a project team implementing a new IT system. When you send the articles you may also send details about the technique of retrospect so when they reach the end of their project key lessons and learning can be captured and shared with others doing similar work in future.
In scenario three a chance conversation whilst a new manager comes to join the library uncovers that they need some additional help to get to grips with working in the NHS (they are new to this sector). You may share some information about the NHS or offer a bulletin to keep them updated in their field of interest. However, if you have previously used the leavers' toolkit with the outgoing manager then there will be valuable knowledge that has been captures and which can be used by the new manager. Knowledge used in this way is often described as rapid on-boarding.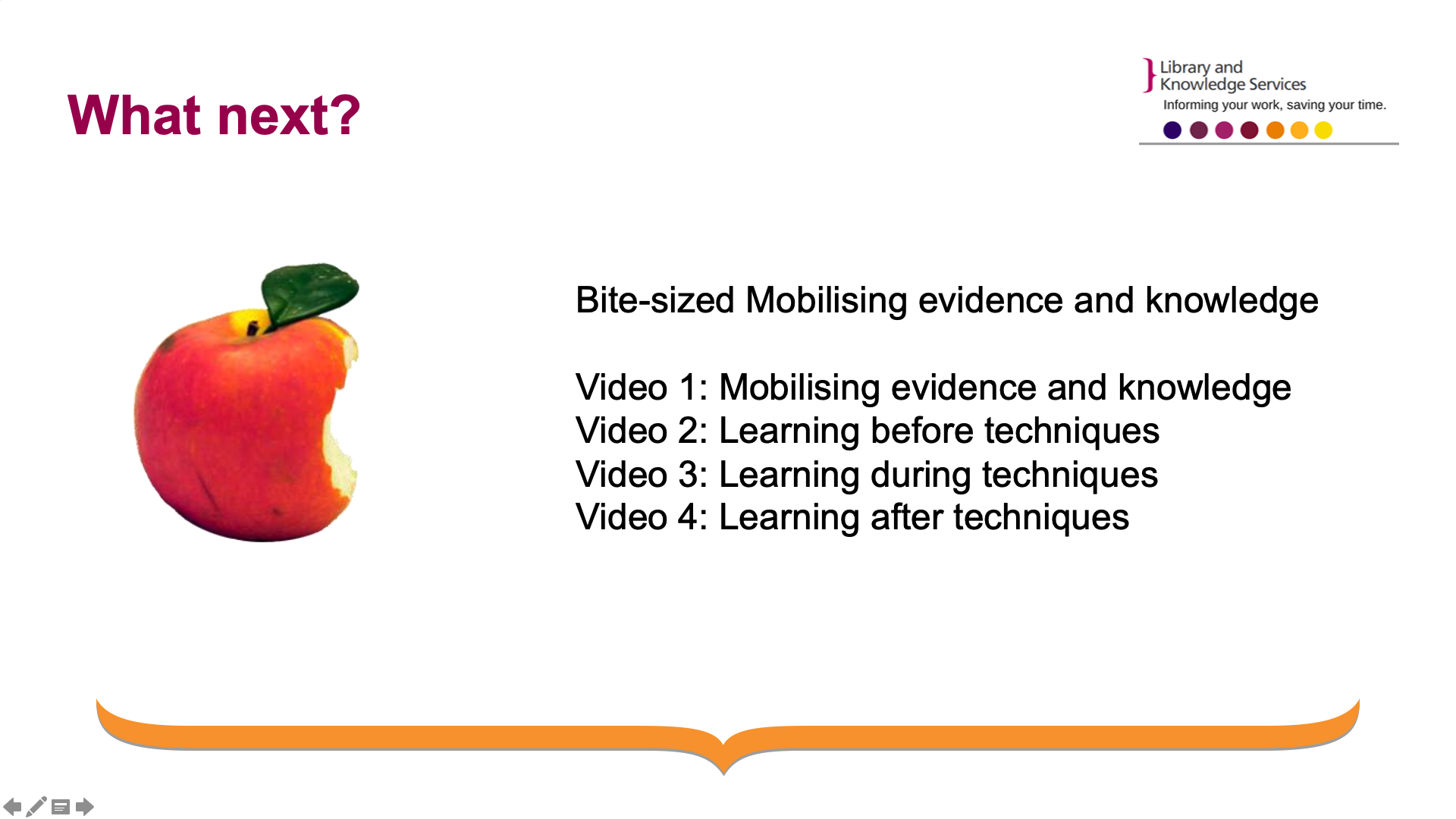 Revisit the other videos in this bitesized series to explore some of the knowledge mobilisation techniques in more detail, make suggestions for how to get started and provide examples of how they have been used by other knowledge specialists. For further examples visit the KM Toolkit and take a look at the KM stories.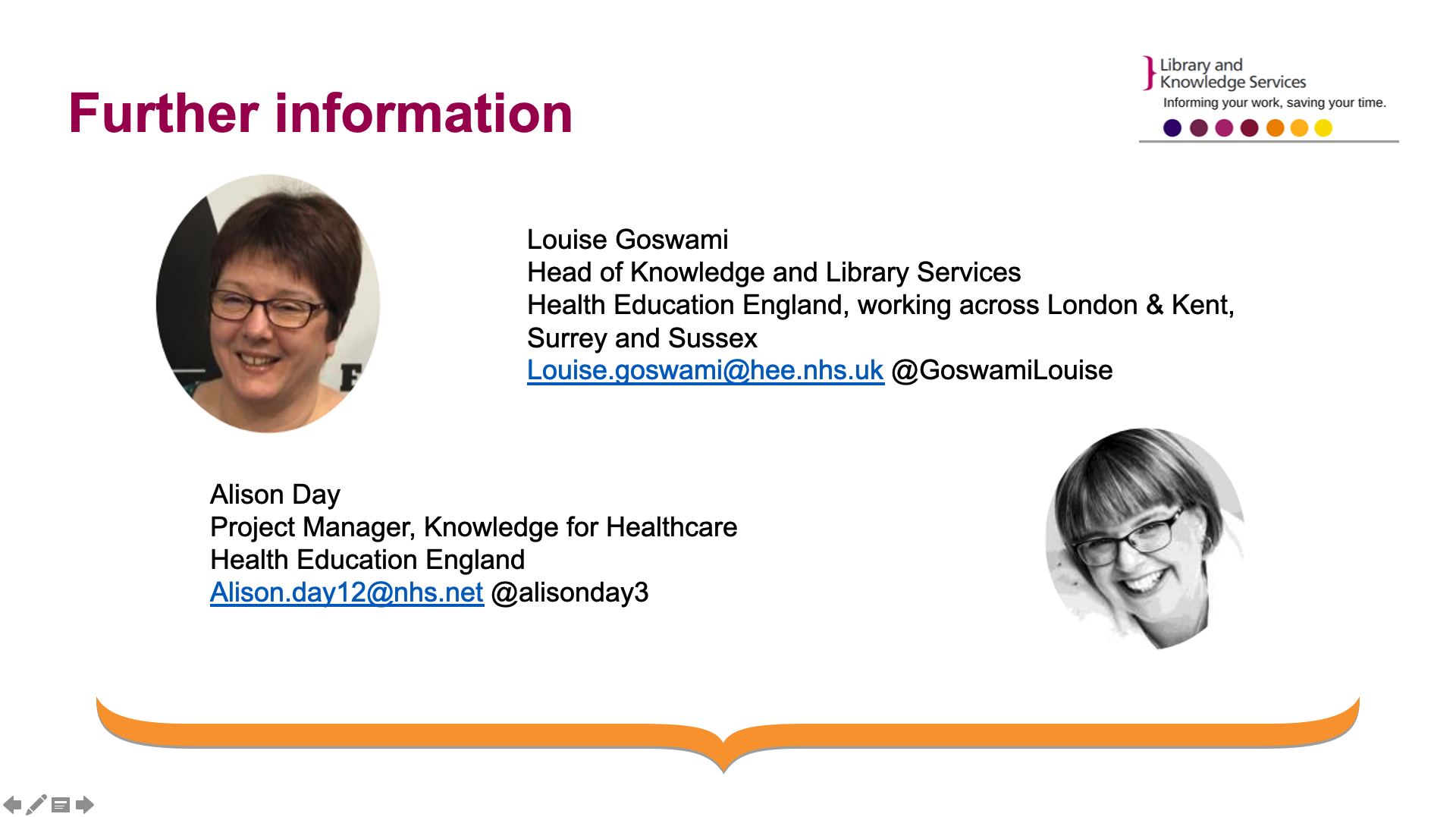 If you would like further information or to share what you have been doing to mobilise evidence and knowledge in your organisation please contact members of the Mobilising Evidence and Knowledge Group.