Published on 30 November 2021, by Alison Day
Mobilising evidence and knowledge
Reflecting on #KNOWvember21 and identifying opportunities to use our expertise
As we reach the end of November it is time to pause and reflect not only on the activities and events of #KNOWvember21 but also to recognise the value of mobilising evidence and knowledge in the health service and how this is core to underpinning the future of health systems.
Using the month of November to share ideas and showcase the many ways NHS librarians and knowledge specialists mobilise evidence and knowledge started in 2018 and is now a firm fixture in the calendar.
This year we have focused upon growing connections: holding randomised coffee trials, joining virtual journal clubs, connecting with those interested in CILIP KM chartership and fellowship, honing our ability to reflect and developing skills to inject fun interactions into our virtual meetings. We have taken part in knowledge exchanges to hear about the latest research and understand how the armed forces approach knowledge mobilisation.
The launch of the digital Knowledge Mobilisation Self-Assessment Tool, which will help us to work more closely with our healthcare colleagues to identify their priorities to make better use of evidence and knowledge to meet their organisational priorities was a highlight. As was hearing more from Dr Tom Foley and appreciating the opportunities that may lie ahead with contributing our expertise to realise the potential of Learning Health Systems. Something re-iterated by Susan Smith in her blog post Knowledge as Data which considers how the knowledge and learning from within data-sets needs to be analysed and summarised so it can be used alongside other forms of evidence and knowledge.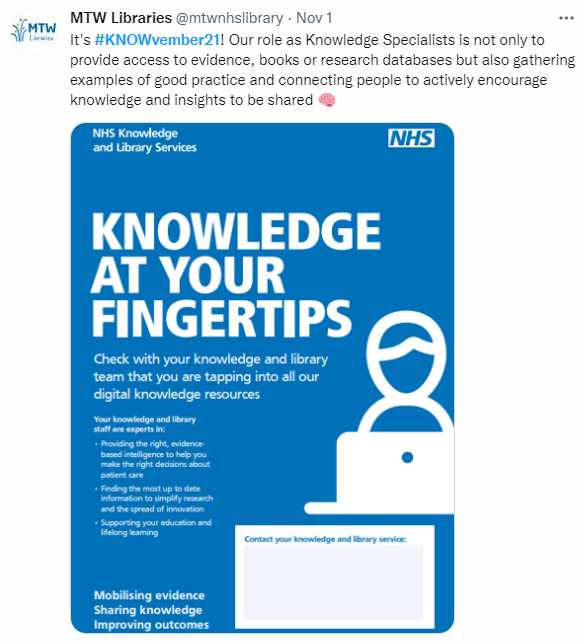 Thank you to everyone who has put up a display, shared a tweet, held an event, contributed to the Padlet, had a conversation, presented or taken part in a webinar – we hope you have enjoyed the month.
What next?
Knowledge Mobilisation is not just for November. We will continue to run training sessions on using the Knowledge Mobilisation Self-Assessment Tool and look out in the new year for training in how to engage with senior leaders about the tool.
Work is underway testing how we can gather impact to demonstrate the value of knowledge mobilisation activities and we will be working more closely with our Knowledge Champions to maintain the KM Community of Practice.
Opportunities to use your unique skills and expertise to mobilise knowledge continue to develop and we recognise an opportunity to assist with the work taking place across the country on preparing for the COVID-19 Public Inquiry. Rachel Cooke explains about her involvement at Surrey and Sussex Healthcare NHS Trust:
"When my trust was made aware of the Covid-19 Public Inquiry and the need to collect and organise all local Covid related evidence i.e. documentation and correspondence; I was approached by our Chief of Staff & Corporate Governance and Head of Corporate Governance for assistance both in the recruitment of the Trust Covid-19 Inquiry Lead and to provide insight and experience of what they knew would be a complex piece of work to collect and capture the necessary information.  A piece of work that they recognised involved a significant amount of knowledge management and the cataloguing of evidence from across the Trust.  I was pleased that they identified that these were skills that the library and knowledge service had. 
I have already met with the person taking on the Lead role to provide her with some tips on things to consider when collating and recording the information - thinking about how you might need to retrieve the information (date, topic, type of asset, owner) and tag each item accordingly, and consistency of tagging. Things that we take for granted but don't occur to most people
The Covid-19 Inquiry is an opportunity to demonstrate to your organisation that the skills of their NHS library and knowledge specialists can be applied in contexts beyond that of organising of books on library shelves."
As this type of work will be new to most of us we see the value in organising an event to share ideas and approaches to encourage you to get involved, once again demonstrating the business-critical nature of your expertise.
We also welcome your feedback and ideas so do share what more you would like to see by posting to the KM Community of Practice or contact us direct at [email protected] or [email protected]