Published on 16 November 2020, by Alison Day
Tools and techniques, Mobilising evidence and knowledge
About techniques to try out during Knowvember 2020
Happy KNOWvember20 – will you been inspired to try something new?
Library and knowledge staff across the country have been showcasing their work mobilising evidence and knowledge during the month of November.
"As a result of this session I will look at how we can use learn at lunch type sessions or coffee conversations within the team and linking in with OD workstreams" Participant at KNOWvember20 Showcase
Participant at KNOWvember20 Showcase
This year, more than any other, has highlighted the benefits of mobilising evidence and knowledge as part of the required response to the Covid-19 pandemic. A series of presentations on the 2nd November re-enforced this where we heard about the work of the NHS England and NHS Improvement Beneficial Change Network that used knowledge management activities to capture the innovations and changes that occurred in health and care delivery as a consequence of the Covid pandemic. Stephen Ayre shared how he had used the conversation café format at George Eliot Hospital NHS Trust to support staff wellbeing and Tracey Pratchett described how the premortem technique* had been used at Lancashire Teaching Hospitals NHS FT to learn valuable lessons about the first wave of the pandemic.
*Klein (2007) Performing a Project Premortem. HBR https://hbr.org/2007/09/performing-a-project-prem
Some of us are also trying to move ahead with projects established just before Covid hit. We heard from Deena Maggs who described how she worked collaboratively with others in the Kings Fund to get agreement for her project to manage the corporate memory of the organisation. Whereas Preeti Puligari from Sandwell and West Birmingham NHS Trust continued to run the QI poster competition to encourage the spread of good practice across her trust. We heard about how the library became involved and the opportunities that involvement presented for the library and knowledge service. During this session we also held a mini Peer Assist – using the questions from the peer assist technique to learn more from our speakers. Further details about the session with links to all the presentations can be found in the virtual delegate pack.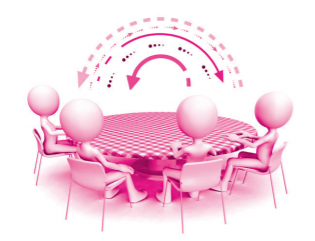 A knowledge café was held on the 12th November which, prompted by an interesting talk by Karen McFarlane the CILIP representative on the committee preparing the BS/ ISO 30401 Knowledge Management Systems, led to conversations about how to use the standard, develop skills and knowledge to make knowledge management part of our standard business offer. Karen provided a useful overview to the standard and explained how it could be used to internally audit KM practice. She then moved on to tell us more about CILIP's knowledge management chartership and there was lots of interest in the chat function about this. Karen's presentation, plus links to further information about CILIP Knowledge Management Chartership are available in the Virtual Delegate Pack.
Further events lined-up for KNOWvember20
On the 17th November 12:30 join the #ukmedlibs chat for a discussion to share ideas, think about good practice and discuss creative solutions to mobilise knowledge effectively online and during a pandemic.
The 20th November at 11am will consider how we can influence a culture of learning and knowledge sharing in our organisations. We will hear from speakers sharing the knowledge management initiatives they have been involved with, conduct the first part of an appreciative inquiry into what has gone well for others introducing KM, hold an After Action Review to discover what has worked or not worked well for two knowledge managers and hold a knowledge exchange to find out more about the NHSE/I Beneficial Change Unit.
The 30th November is the last of our recorded webinar sessions and we are excited to be joined by Nicola Millard, Principal Innovation Partner, BT Enterprise who will inspire us to consider the ways we live and work in a a future where technology is instrumental. We will follow this with a virtual fishbowl conversation to further explore the points made by Nicola.
Starting from this week we will also be inviting library and knowledge specialists to record interviews with each other about the work they have been doing to mobilise evidence and knowledge in their organisations. This could be small scale holding of randomised coffee trials to full-blown implementation of knowledge management strategies. You can watch the first of these interviews with Sarah Lewis at Buckinghamshire Healthcare NHS Trust, on the KNOWvember20 YouTube Channel. Here you will also find all the recorded talks from the sessions held throughout November plus interviews with knowledge managers working in other NHS and non-NHS sectors.
Be inspired and tell us what you have been doing to mobilise evidence and knowledge.