How to upload the your Outcomes submissions documents to the South's Libguides website
Where am I uploading my submission?
You will need to use 2 web browser tabs to login to Libguides: A LibApps login tab and an Outcome submissions private tab.
Go to: https://southlks.libapps.com/libapps/login.php
Enter the username and password details have been supplied by email.
If you need a reminder of the login details, email [email protected].
If your Trust PC wants to run a scan and asks for an authentication code then please copy and paste the link into Chrome.
Leave this tab open. You will not need to use this tab again but please leave the tab open until you have uploaded your submission.
Go to: https://southlks.libguides.com/lks/home
Click on the Group Work tab and select Outcome Submissions Private from the drop-down menu.
You should automatically see the following 4 columns: LondonKSS, Midlands and East, North, and South.
If not, then please add the username and password again. The first folder in each column contains a document listing Trust names and acronyms.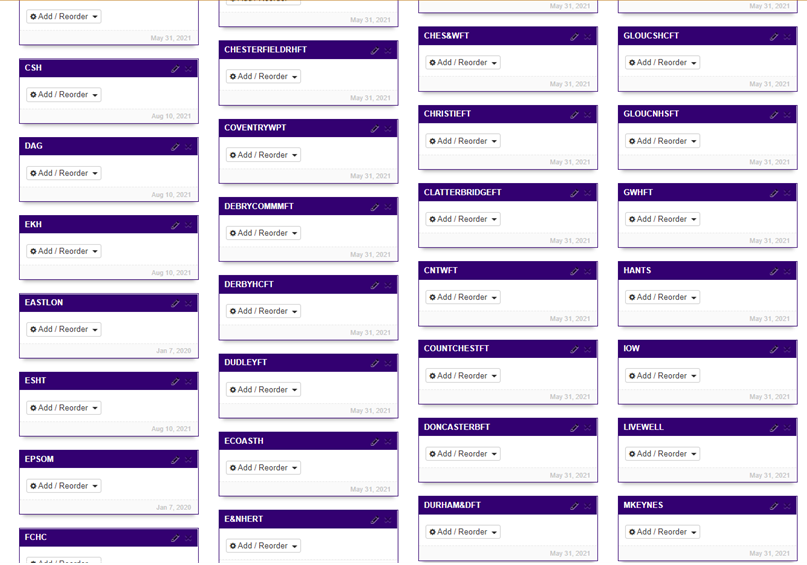 Each Trust has a folder created for you. Your folder is described by an acronym. Please be aware that the acronym used for your Trust may look different from the one you would normally use. This is because we need unique identifiers for each Trust across England. If you cannot find your Trust acronym, please click the link on the general guide for your region at the top of the page to see it.
What documents do I need to upload?
You will need to upload 4 documents into your folder.
Self-evaluation and evidence report WORD document
Pen portrait with a strategy, implementation plan, annual report and copies of any SLAs with the Trust Knowledge and Library service WORD document
Self-evaluated levels report EXCEL document
Action plan​ WORD document
How do I upload my submission?
Find your Trust folder and click on the 'Add / Reorder' button and select the 'Document / File' option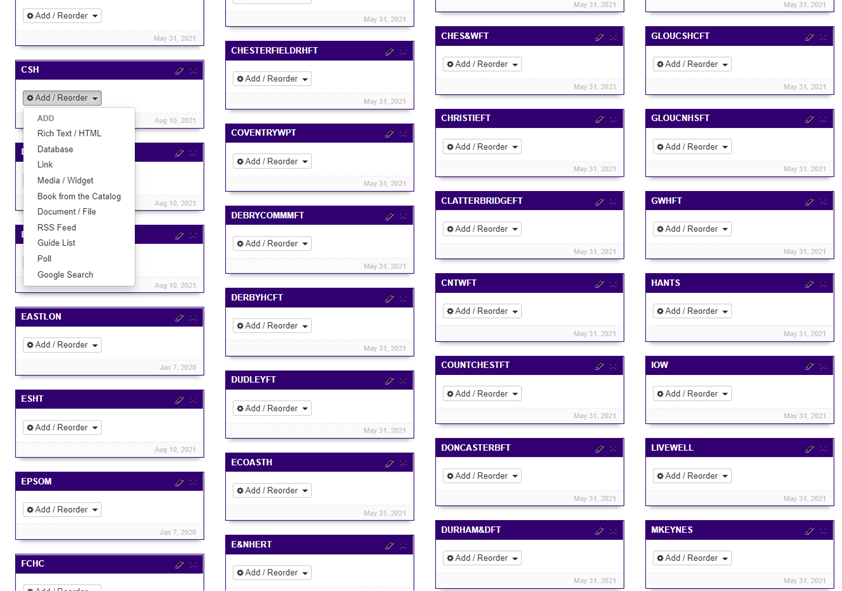 Add the acronym of your library and the name of the document into the title field, For example, GuysFT Pen Portrait, Barts Action Plan, Imperial Self Evaluation and Evidence Report, CSHSurrey Self-Evaluated Levels Report
To upload your document, click on 'Select File' in the Attached file.
Libguides is only accessible to those with the URL and password so is completely hidden.
Please include a password to add an extra level of security to your uploaded documents.
Click on the blue 'Save' button at the bottom of the window.
N.B. The maximum size for each document uploaded is 20MB.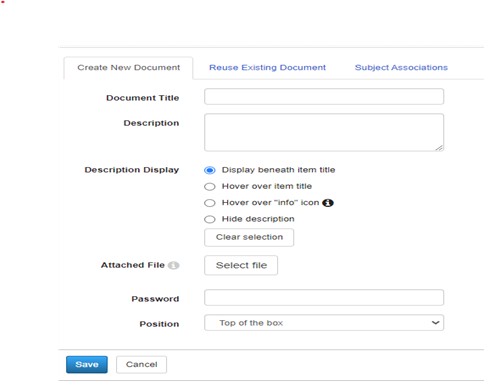 Why do I upload my submission to Libguides?
In the pilot we used HEE's SharePoint for the pilot sites to upload their documents but this was not straight-forward for all, and some could not upload their submission to SharePoint.
For some years, the South West, Thames Valley and Wessex have used Libguides for LQAF (Library Quality Assurance Framework) and Statistics submissions which has worked well.
What if I cannot upload my submission to Libguides?
Is your submission larger than 20MB?
Split your submission via Outcome.
Have you use large graphic images that can be reduced?
Please email [email protected] if you need any further assistance.
Page last reviewed: 27 August 2021