Things to think about when you start using the tool.
Who will you approach first about this in your organisation and how will you introduce the tool?
Have you an idea of their current goals and priorities?
Have you enabled access to the tool and set it up for the team you are working with?
Will you run this as a facilitated group session or will you send the tool out for individuals to complete?
Have you identified your service areas and development opportunities that you want to promote?
Which development opportunities do you need to learn more about to see if they are worth including in an action plan?
When will you schedule a results and development opportunities feedback session with the group?
Who else will you use the self-assessment tool with?
Who else will you contact for further help should you need it?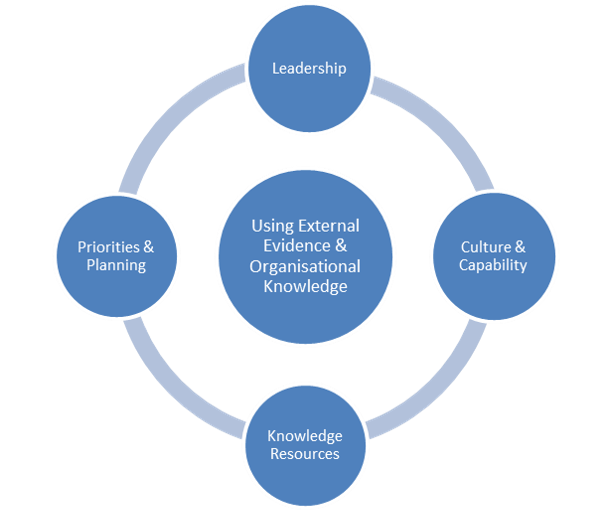 Image shows the sections of the Evidence and Knowledge Self-Assessment Tool.  Around a circle in the centre labelled 'Utilising external evidence ad organisational knowledge' are four circles linked together in an outer circle.  The circle in the North position reads 'leadership'.  The circle in the East position reads 'culture and capability.'  The circle in the South position reads 'knowledge resources.'  The circle in the West poistion reads 'priorities and planning.'
Implementation tips
Familiarise yourself with the self-assessment tool prior to using with a group
Remember you can use the tool with any senior staff group – perhaps practise on your own knowledge and library team or local senior team before trying with the Executive Board
Consider using local examples to illustrate the opportunities
Remember that in the pilot the tool was received enthusiastically – this is of interest to executives
Don't be put off if planned sessions get postponed - persevere
Page last reviewed: 16 June 2021